---
Physics Relay
Thursday 23 June 2011, 1315
Lancaster University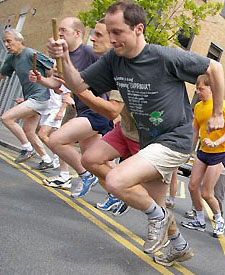 The 34th annual Physics Relay will take place this year on Thursday 23rd June.
This annual fun run is open to teams of four. The course consists of four unequal length legs making up a circuit of campus. It is open to all. There are four prizes on offer, Mens, Womens, Mixed and "Age Corrected".
The Rules are unchanged since the year dot, but there are minor route changes this year due to new fence on leg 3 and around the new sports centre.
Get more information and enter a team at the Physics Relay website.