---
PROMIS celebrates European Researchers' Night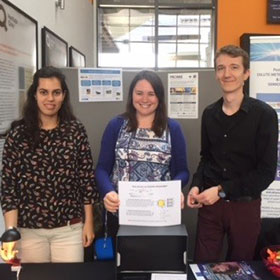 European Researchers' Night is a Europe-wide event supported by the European Commission as part of Marie Skłodowska-Curie Actions (funded under the Horizon 2020 programme). On the 29th September, events took place in over 300 European cities to promote the latest research being carried out by EU-funded projects.
ESRs Denise (Lancaster University) and Lucas (University of Sheffield) travelled to the University of Huddersfield (whose entire campus was a dedicated venue for the evening) to showcase the latest PROMIS research. Our outreach activities ranged from showing the effects of different coloured filters on a solar-powered windmill through to discussing how fibre optics continue to increase the speed of internet connections around the world. These activities proved very popular with all ages! The event also gave us a great opportunity to join with other projects from around the region and showcase our research in "EU Corner".
These projects included:
IDEAS "Adaptive Randomisation" (Lancaster University)
"Europe's Lost Frontiers" (University of Bradford)
"Enhancing Electric Vehicles & Torque Vectoring" (Sheffield Hallam University)
"None in 3" & "The European Music Archaeology Project" (University of Huddersfield)
Come and discover the #poweroflight with PROMIS at our outreach event at the Milliennium Point in Birmingham on Saturday, 11th November 2017! Interactive activities suitable for all ages running from 10am-5pm.
Mon 06 November 2017