---
Lancaster to help plug photonics skills gap thanks to €4 million grant
Story supplied by LU Press Office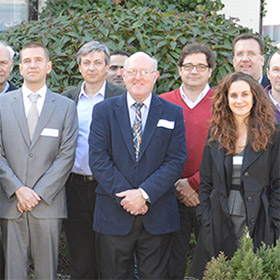 Lancaster University is helping to produce a new generation of photonics experts thanks to a grant of 4 million euros for a new training network.
Photonics is a key 'enabling' technology which focuses on applying the properties of light. This technology is the foundation of advances in areas such as fibre optics and broadband internet, solar cells for energy generation and security applications such as night vision and surveillance.
The newly launched project, known as PROMIS (Postgraduate Research on Dilute Metamorphic Nanostructures and Metamaterials in Semiconductor Photonics), is set to train 15 early-stage researchers to PhD level with the full range of skills required for a career in photonics.
The Department of Physics at Lancaster University secured €4 million of funding for the project from the European Union's Horizon 2020 programme.
The PROMIS project, co-ordinated by Lancaster University, brings together eight academic institutions from across Europe, who will each offer either one or two funded PhDs in a specific research field of photonics. The network also includes ten partners, who will provide industry experience or training courses.
Professor Anthony Krier, who is leading the project, said: "Although Europe has established a strong position with a 20% total share of the €300 billion photonics global market, the project addresses the need for more skilled photonics experts in the near future, due to the industry's rapid growth.
"Our aim is to produce multi-skilled, industry-focused graduates, so each early-stage researcher will experience both academic and commercial environments thanks to the strong industrial involvement.
"It will make extensive use of Lancaster's excellent facilities, such as our recent £4m investment in new clean rooms and nano-processing facilities within the Quantum Technology Centre in the Physics Department."
The PROMIS project was officially launched on 10-11 March at Lancaster House Hotel, and was attended by 20 delegates representing the participating partners.
Fri 20 March 2015