---
Project: ESR on characterisation of novel avalanching materials for APDs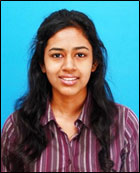 Shumithira Gandan
Shumithira registered as a PhD student at Cork Institute of Technology, and will carry out the majority of his research at the Tyndall National Institute, University College Cork. She will be a member of the Centre for Advanced Photonics & Process Analysis (CAPPA).
The work will be carried out in close collaboration with PROMIS partners (University of Lancaster, Phillips Universität Marburg, University of Rome La Sapienza), and will include short training and collaborative visits to relevant project partners.
Prior to joining Tyndall National Institute in Ireland, Shumithira completed both her Bachelor and Master's degree in Electrical and Electronic Engineering in Malaysia. Her Master's degree however gave her a chance to specialize in Photonics subjects where she did a project on Photonic Crystal Fiber based optical low pass filters for use in Thulium doped fiber lasers. Consequently she had the opportunity to do a placement in Telekom Malaysia Research and Development Photonics lab where she learned experimental setups and techniques related to optical systems. Her current PhD project will involve the development of extremely thin novel avalanching materials, to revolutionise detectors for long range remote sensing and X-ray detection.
Mon 21 December 2015