---
PROMIS inspires local community to discover science in Horizon 2020 joint event!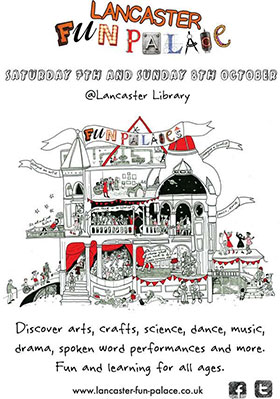 On Saturday, 7th October, PROMIS teamed up with fellow H2020 project IDEAS to showcase our latest research to the general public as part of the nationwide Fun Palaces initiative.
Pam and Denise (Lancaster University) took part in the Lancaster Fun Palace, which was one of 362 events taking place over the weekend, and which aimed to promote the sciences and arts to local communities across the UK. Interactive activities such as fun facts, a quiz, a solar-powered windmill and infra-red "secret" smiley face encouraged people of all ages to discover photonics and learn about the real-life application of our research.
The Lancaster event attracted just over 1800 people on the Saturday alone and gave us a great opportunity to showcase the impact of our research and inspire future generations into the sciences!
Mon 06 November 2017