---
PROMIS continues to inspire the next generation of female scientists at a recent STEM event at the University of Sheffield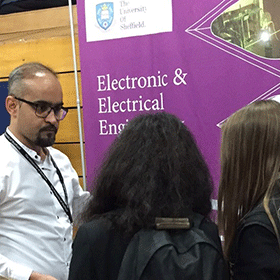 For the second year running, PROMIS has participated in the Exploring STEM for Girls event at the University of Sheffield, which attracted over 600 female high school pupils. ESR Salman Abdullah and Professor Jo Shien Ng exhibited the project's latest developments to the school girls (aged 13 to 15), giving them the opportunity to explore the real life applications of research and discuss possible future careers within photonics.
This was another great opportunity to promote the PROMIS project, and there was a good level of interest from the students.
For more information, please visit:
https://www.sheffield.ac.uk/faculty/science/news/stem-for-girls-1.695142
The University of Sheffield is amongst 9 full partners and 9 associated partners participating in PROMIS from across Europe. Together the consortium is training 16 early stage researchers (ESRs) to PhD level in different aspects of photonic materials and devices. The associated partners provide industry input, secondment visits and training courses for the research fellows.
For more details, please contact Pamela Forster: p.forster@lancaster.ac.uk
Mon 19 June 2017