---
A week of an ESR in secondment by Davide Maria Di Paola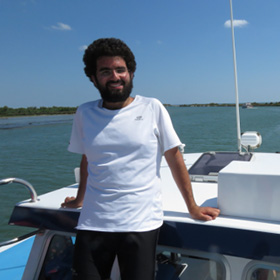 I am Davide, 25 years old, from Italy and currently working at University of Nottingham (UK) ... but this is another story: here is how I live in Montpellier, France.
A working secondment consists of a period of time spent at an academic or industrial partner to learn new techniques and acquire new competences. Apart from the obvious professional advantages that such an experience involves, this also represents an extraordinary opportunity from a personal point of view, since it enables you to meet and interact with new people and cultures, adapt to a new environment and face a different culture.
Monday: group meeting
I know it may seem strange to the most of you, but I am actually the kind of person that likes Mondays. With my batteries recharged from the weekend and with an entire week still in front of me, I feel I can do anything, so...let's start!
Mornings are always in a rush (liking Mondays does not mean that I do not appreciate lying in bed, postponing my alarm clock!). After a quick breakfast, I run to Place de la Comedie, where I take the tram to get to work; all I have to do is sit and relish those 20 minutes losing myself reading my novel... as long as I do not miss my stop!
This week the group meeting was - exceptionally - on Monday, which means that I have spent part of the day preparing a presentation to report my work to the rest of the group. Today we finished at 7pm, but it was worth it: first, it is an useful exercise to present to others in the most concise and clear way possible; moreover, sharing knowledge is the first step to make good research and developing new ideas.
Being particularly late, I had to skip my daily run in the park to cook my dinner and my lunch for tomorrow. I find cooking particularly relaxing, and it also enables me to control what I am eating, rather than just buying ready meals.
Tuesday: recharged by solar energy
After the group meeting, I have to carefully plan the week, dividing my time between experimental and desk work.
But today I finished a bit earlier, so not to skip my daily run in the park again. In Nottingham I always go swimming at the pool in the University Park, but here in Montpellier I take advantage of the wonderful weather to run in Le Peyrou Park, which is also very close to where I am living. It is marvellous to charge your batteries in the sun and breathing some fresh air after a day in the office, and the view from the park is simply amazing! I do not run for very long, but I go rather fast, so to push all the nerves and the tension out. After that, I am always so starving that dinner it twice as appreciated.
Wednesday: measure, measure..and then measure!
Today was spent standing in front of the machine, acquiring data. I enjoy this part, but I have to recognize that after a while it tends to become a bit alienating; that's when the other people in the lab will come to chat and save you!
Tonight was dedicated to Skype calls. Being far away, I put much effort in trying to keep in touch with people I love. I usually call my family and friends when I am having dinner: that's why they mock me telling I am always eating!
Thursday: no pain, no gain!
Data analysis: everyone working in research knows how tiring it is to sit the whole day in front of a screen, especially for the eyes. What is more, here in Montpellier it is so hot that I was looking forward to any occasion to stretch my legs and breathe some fresh air. However, this step is necessary to understand if the work is going in the right direction: sometimes it is not, but one should never despair, because the satisfaction felt when finally everything works after several trials and errors pays back all the efforts.
It is in days like this that simply hanging around in the streets in the sun after works gives benefits both physically and mentally. No more PC for today!
Friday: an evening at les estivales de Montpellier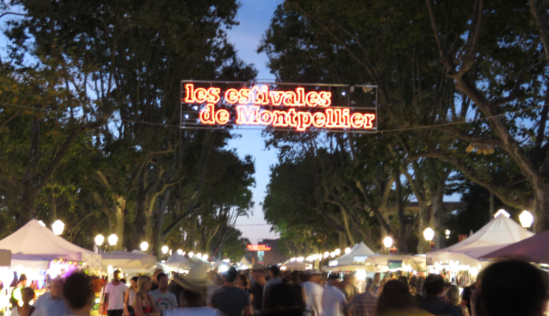 Tonight the guys and I went to the Montpellier Festival: every Friday night in July, a lot of stands are set at the big Esplanade Charles de Gaulle, a green area in the city centre. Needless to say, our attention is clearly drawn by the food stands, from the typical recipes of French cuisine to the mouth-watering and exotic smell of Arabic and Indian dishes. It is always nice to laugh and chat together, while browsing around with a glass of wine or – not surprising given the heat – an ice cream.
Saturday and Sunday: globetrotter mode ON!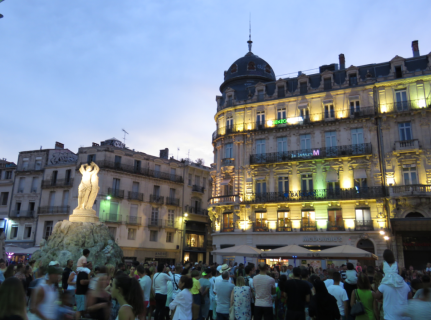 Unlike my British weekends, there is not much lying in bed on Saturdays and Sundays here in France: as a matter of fact, I want to take advantage of my stay to visit as much as I can. This often means waking up early and rather sleep on the train, but when will I ever have again this opportunity to visit the beautiful French Riviera? Now that I earn my own money, these trips are even more satisfactory, although I always plan everything to make cheap and flexible trips.
This weekend I visited to St Guilhem le Desert, a small village 45 minutes by bus from Montpellier. With its Romanesque abbey in the middle of the mountains, it is listed within the UNESCO World Heritage Sites list. Close to it, I had the opportunity to visit the caves de la Clamouse, with breathtaking stalactites and stalagmites structures, and the ancient Pont du Diable, where I had a refreshing bath in the river after a whole day walking and sweating.
Sunday was spent in Sainte Marie de la Mer, the main town in the picturesque Camargue region, to reach which I had my very first hitchhiking experience! The place was definitely worth it: the view from the roof of the main church was simply amazing, and the perfect end of the day was the cruise across Camargue, to see the typical white horses, black bulls and pink flamingos.
Just the best way to recharge my batteries, ready for a new week!
Mon 08 August 2016