---
A week in Rome by Mayank Sharma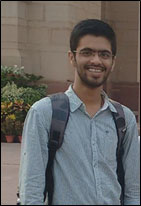 Every night you sleep, you have plans in mind to implement the next day. But, I usually switch off that portion of my brain every Friday and Saturday nights. That doesn't mean that I wake up late, rather I try to shut down everything possible in my life, and go some nearby places to roam around, whether in Rome or in beautiful outskirts of it which are very rich in their respective cultures, and have natural beauty too. In my friend circle, we have set a budget of 10 Euros for travelling every weekend, so geographically we have range of like 40-50 kilometers in any direction from Rome city center. By the way, we will come back to roaming later.
Monday Morning: Fight with gravity
But, now starting my schedule from Monday morning, when I have to open the shutter of my eyes and the disc in my mind starts to rotate with the gravity around my bed being 10 times stronger, I have to get up and plan for the whole day, or better to say for the whole week. I used to ask myself to close my eyes for 5 more minutes, and whenever this has happened, I don't know how these 5 minutes turned into an hour on the clock. This is how you learn to handle the pressure, and time management. However, I have stopped doing it from last few months, and thus getting worse in time management because as I wake up early in morning, everything runs smoothly and on time, and I never have to care about managing time anymore. However, apart from sleeping, I love my job and sports too. Talking about my university and research first, I love these because I have independency in my work. I am free to design and decide steps in my project with my mentor always there, not to make crazy faces and shout at me like a boss, but to guide and tell the drawbacks which can only be clarified in certain possible ways.
I adore my other group members too because they go for coffee breaks twice or thrice a day, and they chat a lot. At first, it was a bit boring for me as I was having no understanding of Italian language at all, but slowly and steadily, thanks to Italian language course in "La Sapienza", I grew better with the course, and started grasping sentences of my Italian friends. Of course, it's too early to start speaking fluently, but thanks to my colleagues, I can understand most of it, and can reply them back in English. The x-factor of this language is you speak more from your facial expressions and body gestures, which makes half of the job done for me or for any other foreigner who doesn't have a good hold on this language. Anyways, this is the way I work on Monday and try to finish at around 6-7 PM (depends on the amount of work I have). And, that's how I get rid of harsh Monday.
Cooking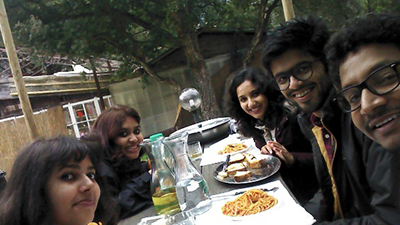 It's been years I am living away from my family, but still pretty bad in cooking. Thank God here in Italy, I have good company of friends who are always there with me and they cook for me too. But, I am asked to pay a price for that. I wash all their dishes too as they prepare our breakfast and dinner, and believe me I am very much relaxed and happy with it. I take my lunch usually with my colleagues in canteen. This is the best way to explore the local dishes with local people. In this way, I can practice my Italian a bit as well. However, when the shopkeepers start to enquire the details about what all things I need and in what quantity, I turn to my friends to get me out of that situation. But, it's fun!
Tuesday: A day with wings
Then comes the next beautiful morning, which is actually less painful than the first working day of the week. However, talking about the routine till evening, it's exactly same as Monday. Except in the evening at 8 PM, I used to do ice skating, but in summer as I don't have that option, I am trying to be happy with wheel skating. In these hours, I feel like I am flying.
Wednesday: Learning Italian with Tiramisu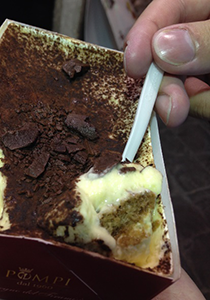 The best day out of weekdays (anyways weekends are far more interesting and fun) for me is Wednesday. The day goes by working in lab and dealing with laser, but the evening and the night are very happening. This day, I try to get done with lab work by 5:30 PM as I have to attend Italian class from 6 PM to 8 PM (also on Fridays). It's so much fun to interact with non-Italian friends and talking with them in broken Italian, and laughing at each other. In these hours, I feel like my life is immensely relaxed with no hick-ups. Anyways, after the class, I usually go out for dinner with my friends in a restaurant at the city center. The real motive behind the dinner there is not the food, but the dessert we take afterwards. There is a shop known as "Pompi" (which is said to be world famous, although I never heard of it before coming to Rome), with typical Italian sweet dishes. Most famous and tasty of them are "Tiramisu" and "Gelato" (kind of home-made ice-creams). Even after visiting many countries, I can easily tell that these two are the best desserts I have taken in my entire life.
Thursday & Friday: Back to college and classes
Then, on Thursdays and Fridays, we usually have course work along with lab work. This is a bit annoying sometimes, when you have important works to do in lab, but after attending them, I find it of great use for my future prospects. Here in "La Sapienza", it's mandatory for all the doctorate students to take at least 120 hours of courses only in their first years. But, the workshop and summer school in Cadiz and Monterpiller are counted as equivalent to 40 hours in total. So, we are bound to take 80 hours of courses. I have opted for three subjects: Spectroscopy, Electronics and Material Science, which in total are of 80 hours. The professors here are very funny and humorous when it comes to taking classes, and so classes never get boring. However sometimes, they take classes in evening and that's where the chewing gum comes to play (however I don't like it!). After a long tiring day in lab, I feel sleepy sometimes and so to wake myself up, chewing gum is the only solution.
Weekends: Follow your heart
But, again the starting of weekend with Italian class from 6 to 8 PM rejuvenates me for the two blank days in front where you have nothing to do except to follow your mind and do your hobbies. As I was talking in the beginning about spending 10 Euros for a weekend trip (either Saturday or Sunday) in the nearby villages or tourist spots. It's fun to have a relaxing day every week where you can talk and fight with your friends, eat anything and just do whatever your mind says. I usually try to apply the techniques of photography which I am learning (not from any class, but from "Youtube").
This is how my week goes by in general!
Tue 21 June 2016