---
Second PROMIS Workshop, Cadiz, 18th to 20th May 2016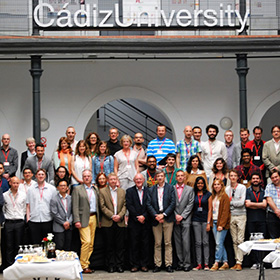 More than 50 European researchers attended the second of four PROMIS workshops which was hosted recently by the University of Cadiz. It brought together our partner supervisors and researchers representing academia and industry as well as a number of non-PROMIS graduate students and high profile speakers.
This international training network (ITN), funded by the Marie Skłodowska-Curie action of the European Horizon 2020 program, aims to train 16 postgraduate researchers in a full range of multidisciplinary skills needed by the rapidly expanding Photonics industry. The University of Cadiz is a member of the PROMIS ITN through the group of Research Materials and Nanotechnology Innovation, coordinated by Professor Sergio I. Molina Rubio.
The theme of this workshop was focused on the design and modelling of Photonic devices of the future, including single photon sources, advanced photodetectors, high efficiency solar cells and infrared LEDs. The current world market for these components is very large; its applications are developing in various key sectors such as: healthcare, renewable energy, communications technology, environmental monitioring, security and defense, etc. The invited speakers included Professors Robert Kudrawiec of the Institute of Physics of the University of Warsaw (Poland), Stephen Sweeney of the University of Surrey (United Kingdom), Alexandre Walker of the Fraunhofer Institute for Solar energy Freiburg (Germany) and Antonio Martí (Professor of the Universidad Politécnica de Madrid). The presentations provided excellent insight for our early stage researchers in these and related areas.
The workshop also gave our researchers the opportunity to practice their presentation skills and present their projects to the invited delegates, as well as participate in a specialist "hands-on" computer session modelling semiconductor nanostructures using "Nextnano" led by Dr Stefan Birner.
Professor Anthony Krier, PROMIS Project Coordinator said: The workshop was lively and informal with some excellent, accessible and informative specialist talks, as well as contributions from the early stage researchers. Everyone enjoyed the event and the beautiful city of Cadiz.
Professor Sergio Molina, PROMIS Supervisor and workshop host said: We are happy about the feedback received from all the attendants to this workshop. We noticed that the workshop has contributed to the training of the PROMIS ESRs, which is a key objective of our network, with excellent talks about the Design and Modeling of materials and devices for Photonics. I think that a common appreciation of our ESRs and their supervisors is that the networking has become strengthened and this is also contributing to the better achievement of joint research activities among the PROMIS partners.
The next PROMIS event will be held in Montpellier, September 2016.
Thu 09 June 2016