---
A week in the life of a researcher by Flavio Nucciarelli, Sgenia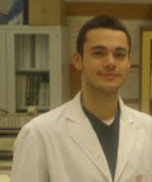 Lunes: el arranque. It's Monday and I'm back to work! People come back to their hanging lab issue, checking email and starting conversations typically on "how hard it's to come back to work on Monday". There is a Spanish word which means the starting mechanism of something: el arranque. I think that's how I feel indeed, I charge the battery on weekend to turn the key on Monday once again. People may think that researching could not be a work as hard as stonecutting but trust me, it definitely makes life more stressful! Fortunately, there are chances to take some breath during the long way to become a PhD and Spain culture has its personal way to do that: different strokes for different folks. First pit-stop is set at 11 o' clock on the morning with coffee break – chatting is mandatory – and because of my Italian being of course I complain about the coffee (Italians always find faults with food and beverage abroad). Next stop, between 1 and 2 PM, is the so called comida. The weird and interesting fact of the Spanish lunch time regards to what happens next of it. Usually people chat and relax at the table for a variable time between 30 and 60 minutes. Of course when you work the sobremesa (that's how they call it) can't last too much, but Spanish really enjoy that and occasionally they complete it with a satisfying siesta (a nap of about 20 minute). I wish I could back time to the weekend to full enjoy this local never-ending break, but lunch is over and I have to work. Six thirty PM finally comes, Monday is over.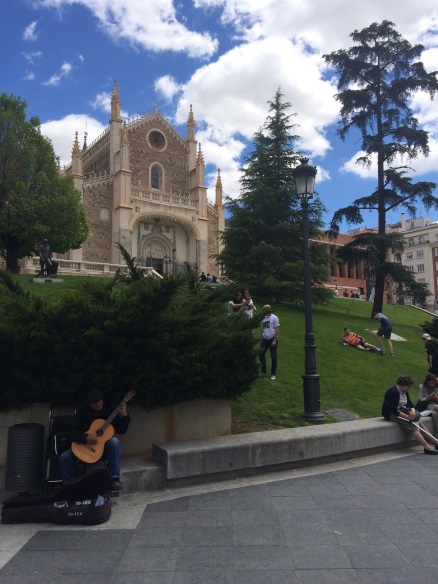 Martes: piscina que pasion!
When do I practice sport, you said? At the morning of course! Yes, I am one of those who twice per week wakes up at 6.00 AM to go swimming. It definitely makes my day and it makes me feel more active and happier like less other things can do (except maybe winning the lottery or summer holidays). I usually swim on Tuesday and Thursday morning and because of the early hour it's a pleasure to not be forced to fight to find a seat or simply get off the train. At that time, the world seems to be quieter and colours still do not shine as they will by few hours. But, unfortunately I'm not the only one who likes bathe in the morning, since the incredible crowded lanes! I work-out one hour roughly, keeping the rhythm with the people around me as in an imaginary challenge. Hold the breath, move the arms, reach the end and do one length more! That's what I thought for about 40 minutes. After the activity, the day goes as usual, but I face the work-day with a brand-new energy: swimming gives you wiiiiings.
Miercoles: un dia normal
I know living abroad and being a PhD student may be cool and funny, but even a PhD student needs to do laundry and refill fridge with food. I usually spend Wednesday free time washing my socks and wandering along the supermarket lanes like a real housemaker do. Once I come back home, I tidy things up and I start cooking but that's definitely boring and stressful, especially for an Italian guy! Yes I admit it, all the things said about Italians and their moms are true. A very high percentage of the Italian's mothers are good in cooking and pamper their little childes. So this is because generally we do not get along with house stuff. Nonetheless, with some effort I have endured until the end of my PhD path. Finally, I spend the rest of the day playing guitar, painting and reading books. I know it may sound like a bohemian life, but definitely it's not (first rule of a bohemian: never tag yourself as a bohemian).
Jueves: Paella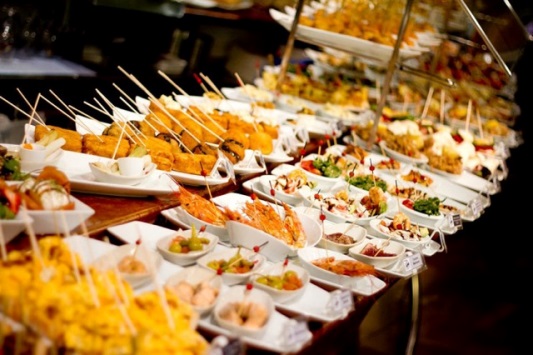 The paella is a typical Spanish cuisine dish made by rice, vegetables, and meat or fish (sometimes both). It said to originated from the region Valencia which is in eastern Spain and the name seems to come from the the Arab word "baqiyah" meaning left-overs.
Long ago, the wives used to prepare the paella ingredients and mirepoix the day before of cooking it to save time, that's from the name come from. Following the tradition, Spanish used to eat this incredible and tasty meal especially on Thursday but it seems no one knows really the reason. Some possible explanations are:
Fishermen used to go fishing on Monday and usually the catch was distributed to the inner region since Thursday. During that day, people and restaurant used to take advantage of it by cooking paella.
It also said that restaurants used to leverage of the paella on Thursday to get rid of the fish, vegetables and meet leftovers, since Friday was the market day.
Viernes: fin de semana
Thanks God it's Friday! It may look as a normal working day but it's not. Worker of allover the world prepares themselves to relax, trip, go out, dance and so on. I don't know why but people at the university seem disappear on Friday. The cafeteria looks like a western movie scene indeed, no one in queue except me and colleagues, hay bales rolling around and the creepy sound of silence and blowing wind. When the time comes, everyone starts the weekend drinking their first caña (small draft beer 5 oz.) in one of the countless bar of the city. You can have your drink at the table (mesa) or at the bar (barra) and the waitress generally serves you an appetizer (tapa) together as well. Give my experience, the most famous and tasty tapas you can try in Spain are the following: chorizo (spicy pork sausage), paella, patatas brava (potatoes with brava sauce), tortilla (Spanish omelette), jamon serrano (dry-cured ham) and morcilla (black pudding). We may define the tapa and caña - mandatory together - as the core of the Spanish nightlife scene, people reunion to share and savor a genuine moment of relax and food. Finally the day comes to an end and those small draft beers drunk during the night, gently accompany you home and match with the fatigues of the week, to get some shut-eye.
Thu 19 May 2016