---
Stem for Girls shows PROMIS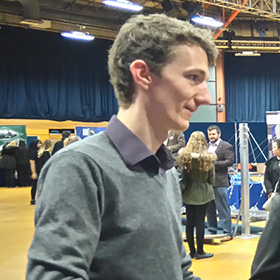 The Postgraduate Research on Dilute Metamorphic Nanostructures and Metamaterials in Semiconductor Photonics Initial Training Network (PROMIS) funded by the EU Horizon 2020 Marie Skłodowska-Curie Actions participated in event 'STEM for Girls' that took place in Sheffield on the 6th April. Dr Jo Shien Ng and our researcher Lucas Pinel had a stand on photonics, trying to demonstrate light spectrum, polarisation, optical fibre and internet communication to middle school girls. Nearly 450 Year 9 to Year 11 girls attended.
The Exploring STEM for girl's event is for female students currently in Year 9-11 to explore their options in STEM subjects, related careers and pathways. The format of the day was an inspirational talk to introduce the event followed by a series of exhibition stands with lots of hands-on activities and demonstrations.
It was a great opportunity to promote the PROMIS project, and we had good interest at the stand from students. The University of Sheffield is amongst 10 full partners and 8 associated partners participating in PROMIS from across Europe. Together the consortium is training 15 early stage researchers (ESRs) to PhD level in different aspects of photonic materials and devices. The associated partners provide industry input, secondment visits and training courses for the research fellows.
For more details please contact Allan Gordon: a.gordon@lancaster.ac.uk
Thu 14 April 2016