---
First PROMIS Workshop, Sheffield, 21st to 23rd September 2015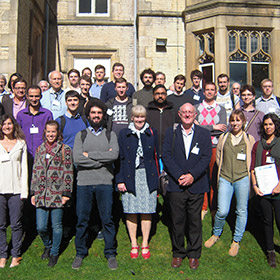 The first of four PROMIS workshops was hosted by the University of Sheffield at Kenwood Hall, Sheffield, on 21st – 23rd September 2015. It brought together for the first time all our partner supervisors and researchers and was attended by over 35 delegates representing both academia and industry as well as a number of non-PROMIS graduate students.
The workshop began with a one day training course on Communication Skills, in which all the students learned about presentation techniques and prepared a short talk which they later presented to the workshop attendees.
During the following 2 days high-profile speakers gave a series of intensive tutorial-style talks introducing the students to important aspects of the PROMIS work packages including; Epitaxial growth, MOVPE, Material characterization techniques, Defects in semiconductors and other interesting topics. The presentations provided excellent insight for our researchers in these and related areas. The network Supervisory Board Meeting was also held on the final day of the workshop together with discussions on the four individual work packages.
Professor Anthony Krier, PROMIS Project Coordinator said: The first workshop was very successful and provided an excellent opportunity for our early stage researchers to meet one another and interact with the expert speakers.
The next PROMIS Workshop will be held in Cadiz, May 2017.
Mon 02 November 2015