---
Photonics Ireland shows PROMIS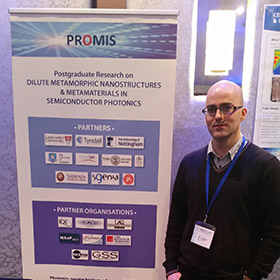 The Postgraduate Research on Dilute Metamorphic Nanostructures and Metamaterials in Semiconductor Photonics Initial Training Network (PROMIS) funded by the EU Horizon 2020 Marie Skłodowska-Curie Actions participated in the Photonics Ireland Conference 2015 held in Cork from 2nd – 4th September at the Maryborough House Hotel.
Photonics Ireland is Ireland's leading photonics conference, held biannually since 2007. Dr. David Williams from the Cork Institute of Technology at Tyndall National Institute represented the PROMIS project;
"The conference is a key event in the Irish photonics research calendar, attended by the major players across all aspects of photonics research in Ireland, as well as invited international speakers. It was a great opportunity to promote the PROMIS project, and we had good interest at the stand from attendees."
University College Cork and Cork Institute of Technology are amongst the 10 full partners and 8 associated partners participating in PROMIS from across Europe. Together the consortium is training 15 early stage researchers (ESRs) to PhD level in different aspects of photonic materials and devices.
The associated partners provide industry input, secondment visits and training courses for the research fellows.
For more details please contact Allan Gordon, a.gordon@lancaster.ac.uk
Tue 08 September 2015