---
Lancaster physicists launch public lectures
Story supplied by LU Press Office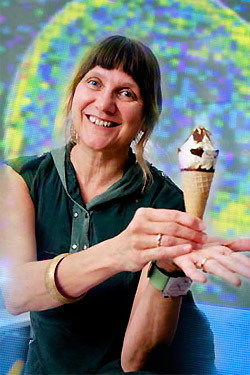 Lancaster University physicists are inviting the general public to a series of free lectures this autumn.
Making Waves is a series of six lectures at Lancaster's Storey institute, showcasing the cutting edge research that takes place in the UK's top-rated physics department.
Dr Jim Wild is one of the organisers: "There seems to be a real appetite for science among the general public and Lancaster's Physics Department is rated as one of the very best in the country. We'd really like to engage with Lancastrians and let them know about the exciting research that takes place on their doorstep."
The first lecture, on Tuesday 9 October, by Dr Laura Kormos, will use ice cream to illustrate the nature of subatomic particles called neutrinos.
Laura explains: "Ice cream has flavours just like neutrinos and I will be using Neapolitan ice cream to show the probability of different flavours occurring."
She said she hoped there would be a lot of interest in the lecture.
"The work we do is interesting and exciting stuff, but people don't hear about it and can't easily ask questions - but now you can! After all, the work we physicists do is funded by the general public, so you have a right to know."
Other topics include the "Holy grail of Particle Physics" the Higgs boson, the question of what existed before the Big Bang, extreme cold, solar storms and the mysteries of invisible waves.
The six one-hour lectures run from 9 October to 13 November at 7pm. Tickets are free. You can register online or call 01524 592067 for a ticket.
Thu 27 September 2012