---
The bizarre world of low temperatures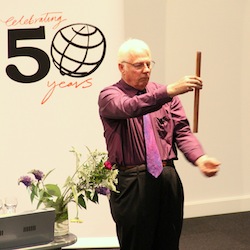 "The bizarre world of low temperatures" was the theme of a quite extraordinary public lecture held on campus recently as part of the University's 50th anniversary celebrations. An audience of over 200 packed into the Faraday Lecture Theatre on the evening of Monday 30th June to witness an amazing double act by Physics Nobel Laureate and honorary Lancaster graduate Professor David Lee (Texas A&M University) and Fellow of the Royal Society Professor George Pickett (Lancaster University).
Professor Lee described the ground-breaking research that he and colleagues at Cornell University performed in the early 1970's leading to the discovery of the superfluid phases of liquid helium-3. Superfluids are an exotic phase of matter where fluids become friction-free and can even flow uphill! The significance of this work was recognised by the award of the Nobel Prize for Physics in 1996. In Lee's Nobel Prize citation, credit was given for important contributory work on helium-3 carried out at Lancaster by Professor Pickett and his research group and, indeed, George was a special invited guest at the 1996 Nobel Prize ceremony in Stockholm.
Professor Pickett's part of the lecture explained some of the physics that controls the low temperature world, illustrated with entertaining demonstrations using liquid nitrogen live on stage. He also described how liquid helium could be used to perform a laboratory simulation of cosmological phenomena that may have occurred shortly after the Big Bang, nearly 14 billion years ago.
Most of the audience also took advantage of the opportunity to take a tour of Lancaster's world-leading low temperature physics laboratories and the opportunity to chat with the speakers over a glass of wine at the conclusion of the lecture.
Earlier in the day, Professor Lee also participated in a session of A-level physics students visiting the Physics department from Caldew School, Cumbria. The Department's School Outreach Officer, Phil Furneaux, invited Professor Lee to drop in on the students whilst they were carrying out some experiments in our undergraduate teaching laboratories. Although initially unaware of who was assisting them with their experiments, they soon discovered that they were working with a Nobel Prize winning physicist. Not a bad story to be able to take back to school at the end of the visit!
Fri 04 July 2014