---
National Science and Engineering Week 2011
Mon 14 - Fri 18 March 2011
Lancaster University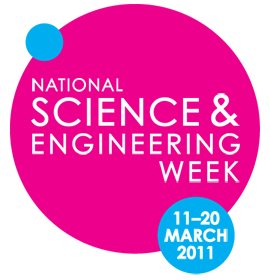 As part of National Science and Engineering Week 2011 Lancaster University is holding a series of activities to promote Science and Technology to local school students.
The activities will be spread across five days (approx 10am-3pm) and are aimed at year 10 and 11 students.
Monday 14th March: Engineering and Physics Bottle Rocket Challenge. The students will spend the day looking at the basic mechanics of rockets, the effect of thrust, and air resistance before designing and constructing the rockets. The afternoon will involve launching the rockets and evaluating performance.
Tuesday 15th March: Department of Mathematics and Statistics offering a series of interactive talks themed on the maths behind video games and the asking students to have an open mind to consider the possibilities of a new perspective.
In the afternoon the School of Computing and Communications offer the session "R U Mobile: The rise of the App". This session will provide a fun, interactive guide to the world of mobile Apps, from design to development, testing and of course playing!
Wednesday 16th March: Staff from the Lancaster Environment Centre and Lancaster and Morecambe College will run a session asking students to think about what is required to build a sustainable city. They will attend two sessions looking at the social and science aspects of building a city and a final session will give pupils the chance to play a computer game which enables them to try their hand at building a sustainable city.
Thursday 17th March: Mind Games: Psychology in Action. Students will discover real-world applications of the science of psychology. They'll experience how the mind is tricked by illusions of vision, audition, and attention, and will learn about the different roles of the hemispheres of the brain.
Students can spend the afternoon in a University lab with a session run by staff from Biology. In the hands-on session, they will have the opportunity to find out about the different kinds of cells in sheep blood, and what they do. They will prepare a blood smear on a microscope slide, stain the blood cells using a special stain, identify features of different types of cells using microscopes and estimate the relative proportions of those cells in blood.
Friday 18th March: The department of Physics will take students on a journey from extreme heat to extreme cold. Dr Jim Wild will start the session with his interactive talk "Hot, hot hot!" The session will look at the developments in our understanding of the Earth's neighbouring star and the science that enables us to see the Sun as never before. Interactive experiments will be used to demonstrate basic physical principles while activities will enable participants to make their own solar measurements.
Students will then have a tour of the Physics departments before spending time with researchers involved in low temperature Physics. From Hot hot hot to cold cold cold!
We hope students will find these sessions both informative and fun, and that they will be encouraged to keep studying science and technology related subjects within school.
Due to a great response we only have limited places available. If you are a teacher and are interested in sending students to one or more of these sessions please get in touch with Dr Alan Darragh, tel. 01524 594208.